Fitness Centers

Health-conscious guests will find everything they need to maintain their regular workout schedules while staying at the Blue Chip Hotel.
Spa Blu Tower Fitness Center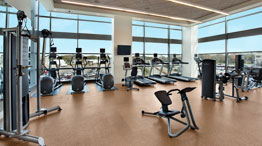 Many hotels feature fitness centers, but none are quite like the state-of-the-art center in the Spa Blu Tower. Featuring weight-training stations, treadmills, bikes, and elliptical machines, this fitness center is able to meet all the demands of 21st century fitness training. Nestled in the second-floor spa area, the fitness center also features enormous glass exterior walls that offer natural lighting and ambiance, while also providing a scenic view of the outdoor landscape. A day pass is available to hotel guests for $8.
Blue Chip Tower Fitness Center
Located in the Blue Chip tower, this fully equipped fitness room offers free weights, state-of-the-art weight machines, a treadmill, a stairclimber, an elliptical machine, and more.