7th Annual Blue Chip Brewfest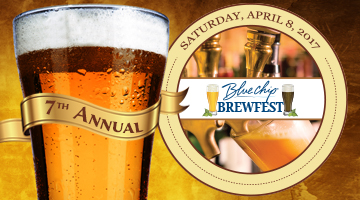 Date:
April 8, 2017 12:00pm
Cost:
Tickets from $15
Live Entertainment:
The Allen Wronko Band
General Admission:
Includes Pint Glass.
VIP Session:
Includes Access to Dogfish Head Beers in the Sam's Town Ballroom from Noon - 2:00pm, Pint Glass and Early Entrance at 1:00pm.
Dogfish Head Beers Available:
120 Minute IPA 2009
120 Minute IPA 2012
120 Minute IPA 2013
Bitches Brew Dark Ale 2012
Bitches Brew Dark Ale 2015
Palo Santo Marron Imperial Brown 2014
Fort Strong Ale 2015
World Wide Stout 2009
World Wide Stout 2010
World Wide Stout 2011
World Wide Stout 2013
Brewmaster:
Includes Luncheon with Laura Bell from Bell's Brewery in the Orleans Ballroom from 11:30am - 12:30pm, Access to VIP Session, Pint Glass, T-Shirt, and Early Entrance at 1:00pm.
Designated Driver:
Includes complimentary specialty soda and water.
Tickets are on sale now at Ticketmaster.com or the Blue Chip Gift Box.
General Admission $45
1:30pm - 5:00pm
VIP Session $75
Noon - 2:00pm
Brewmaster $99
11:30am - 12:30pm
Designated Driver $15
1:30pm - 5:00pm