It's Comedy Baby!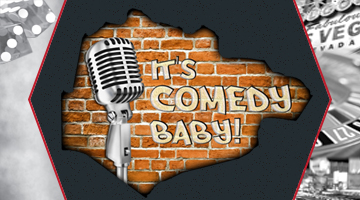 Date:
October 26, 2014 7:00pm
Cost:
Free Admission
FRANK TOWNSEND w/ JOHNNY BEEHNER
Every Sunday Night in It's Vegas Baby!
7:00pm - 9:00pm

Hosted by Mike Toomey
As seen on Comedy Central, HBO and WGN-TV Morning Show personality!

The September line-up is:
September 7 - DWAYNE KENNEDY w/ JACK BAKER
September 14 - JERRY DONOVAN w/ ALLEN TRIEU
September 21 - JOHN DACOSSE w/ CARMAN MORALES
September 28 - KEVIN ZEOLI w/ JEANIE DOOGAN

A true rising star! You've seen him on the Late Show with David Letterman and FX's Totally Biased. Now see DWAYNE KENNEDY at the Blue Chip! With special guest JACK BAKER and host MIKE TOOMEY.

Nationally known headline (Zanies, Funny Bone and NYC's Carolines) JERRY DONOVAN makes his first appearance at It's Vegas Baby! along with special guest ALLEN TRIEU and host MIKE TOOMEY - Be there!

A Chicago favorite! In addition to playing clubs and colleges, JOHN DACOSSE has opened for Jay Leno, Howie Mandel and Louie Anderson. Don't miss this one! With special guest CARMAN MORALES and host MIKE TOOMEY.

You'll want to be there for the outrageous comedy of Detroit comic KEVIN ZEOLI as seen on Comedy Central and NBC. With special guest JEANIE DOOGAN and host MIKE TOOMEY. Hilarious!

---
The October line-up is:
October 5 - DAVID NICKERSON w/ MARTY DeROSA
October 12 - SCOTT LONG w/ TIM BAKER
October 19 - DWAYNE GILL w/ JAMIE CAMPBELL
October 26 - FRANK TOWNSEND w/ JOHNNY BEEHNER

Stellar comedy writer and stand-up! DAVID NICKERSON, as seen on tour with Dave Attell and writer for Spike TV and Comedy Central roasts, headlines with special
guest MARTY DeROSA and host MIKE TOOMEY. A great show!

As seen on NBC, Fox, ESPN and the top clubs in the country! SCOTT LONG tops the bill this week with special guest TIM BAKER and house mc MIKE TOOMEY - Make plans to catch this one!

A former cop who now "protects and serves the funny!" Be there when DWAYNE GILL brings his unique perspective on life to the Blue Chip! With special guest JAMIE CAMPBELL and host MIKE TOOMEY.

One of Chicago's best comics! FRANK TOWNSEND is a regular headliner at comedy clubs and on cruise ships. Don't miss his debut appearance on our Sunday night comedy series! With special guest Milwaukee comic JOHNNY BEEHNER and host MIKE TOOMEY.