Salute To Our Veterans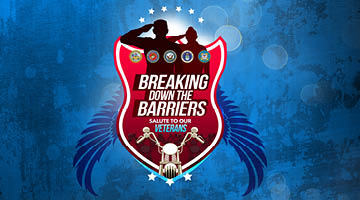 Date:
June 17, 2017 12:00pm
Cost:
Tickets from $15 to $30
Buy Tickets
Saturday, June 17
Orleans Ballroom and Parking Lot

Noon - 1:30pm | Registration
1:30pm | Kickstands Up
1:30pm - 3:00pm | A Police Escorted Motorcycle Ride (Stop at Danny Bruce Memorial)

Noon - 4:00pm | Veterans' Vendor Fair
3:00pm - 4:00pm | Dinner
4:00pm - 5:00pm | Agencies Speak
5:00pm - 6:00pm | Guest Speaker and Army Veteran, Bryan Adams

All donations and ticket sale proceeds go to support veterans with PTSD.

Tickets are on sale now at Ticketmaster.com or the Blue Chip Gift Box.

Double Ride & Dinner $30
Motorcycle Ride & Dinner $20
Dinner Only $15

Tickets can also be purchased at participating VFWs in LaPorte, Lake and Porter Counties.

Souvenir Ride T-Shirts available.

Sponsorships Available! Become a sponsor for this great cause today!