The Neverly Brothers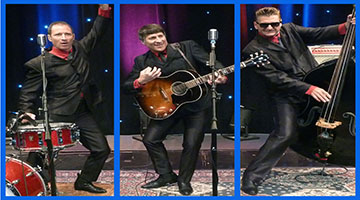 Date:
March 25, 2017 1:30pm
The Neverly Brothers: A Rock n' Roll Evolution - from Elvis to The Beatles! This national touring act's concerts recreate the birth, near death and resurrection of rock n' roll. The first half of their shows pay tribute to the 1950s American rock n' roll, Rockabilly and Rhythm & Blues pioneers. The second half pays tribute to the next wave of bands they inspired: the1964 British Invasion groups. Their infectious energy and electrifying performances play out like a history of rock n' roll - from 1955 to 1965 - complete with a chronological song selection, rock history narrations & period perfect wardrobe changes. Their repertoire consists of early hits by Jerry Lee Lewis, Chuck Berry, Little Richard, Buddy Holly,The Beatles,The Rolling Stones,The Kinks,The Dave Clark Five and many more. It's not "moldy oldies"- it's "old-school cool!" And it's truly a one-of-a-kind MAGICAL HISTORY TOUR!