Veterans of SNL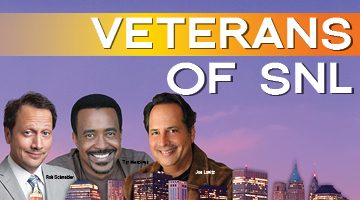 Date:
March 29, 2014 8:00pm
Location:
Cost:
Tickets from $35.00
Three Legendary Comedians!
One Hilarious Night!

Veterans of SNL - Rob Schneider, Tim Meadows and Jon Lovitz perform one hilarious night at the Stardust Event Center on Saturday, March 29 at 8:00pm.

Tickets for this must-see event are on sale now. Visit Ticketmaster.com or the Blue Chip Gift Box to be a part of this memorable evening.

Rob Schneider - During his four seasons at "SNL," Schneider was nominated for three Emmys and a Peabody Award. Heis well known for his longtime relationship with Adam Sandler and Sandler's production company, Happy Madison. Schneider has starred in several Happy Madison projects, including "Bedtime Stories," "You Don't Mess With The Zohan," "The Benchwarmers," "50 First Dates," "The Longest Yard," "Eight Crazy Nights," "Little Nicky" and "Mr. Deeds." Also for Happy Madison, Schneider co-wrote and starred in "Deuce Bigalow: European Gigolo," "Deuce Bigalow: Male Gigolo," "The Hot Chick" and "The Animal." Other film credits include "Shark Bait," "The Waterboy" and "Big Daddy."

Tim Meadows - "SNL's" senior cast member, Meadows quickly established himself as a versatile comedic performer on the show in the early '90s. His recurring characters include sitcom star G-Dog, "The Quiet Storm" host Chris Garnet, Russell Johnson of the tough-talking law firm of Russell & Tate, "Perspectives" host Lionel Osbourne, "The Ladies' Man" host Leon Phelps, Captain Jim, and a member of the moral-teaching group The Rocky Roads. His film credits include roles in "Coneheads," "Wayne's World II," and "It's Pat."

Jon Lovitz - entered the national consciousness through his many oddball characters on Saturday Night Live. As Tommy Flanagan, the president of Pathological Liars Anonymous, he single-handedly made "Yeah, that's the ticket!" a catch phrase that still lingers today.. His work in "A League of Their Own" was one of the most talked about performances of 1992, but he's worked in many films before and since. In fact, he's appeared in 11 features thus far, including "Big," "Three Amigos," "Jumping Jack Flash," "City Slickers II," "Loaded Weapon One," and "Mr. Destiny".