2014 TripAdvisor Certificate Of Excellence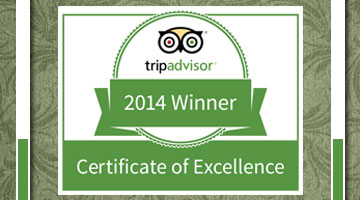 William B's Steakhouse Earns 2014 TripAdvisor Certificate Of Excellence
William B's Steakhouse has received a 2014 TripAdvisor® Certificate of Excellence award. The accolade, which honors hospitality excellence, is given only to establishments that consistently earn outstanding feedback from TripAdvisor travelers. Only the top-performing 10 percent of businesses listed on TripAdvisor receive this prestigious award.
This prestigious award is based on the quality of reviews and opinions William B's Steakhouse has earned on TripAdvisor over the past year. Businesses must maintain an overall TripAdvisor bubble rating of at least four out of five, volume and recency of reviews. Additional criteria include a business' tenure and popularity ranking on the site.
"TripAdvisor is pleased to honor exceptional hospitality businesses for consistent excellence," said Marc Charron, President of TripAdvisor for Business. "The Certificate of Excellence award gives top performing establishments around the world the recognition they deserve, based on feedback from those who matter most - their customers. From Australia to Zimbabwe, we want to applaud exceptional hospitality businesses for offering TripAdvisor travellers a great customer experience."