2016 Award of Excellence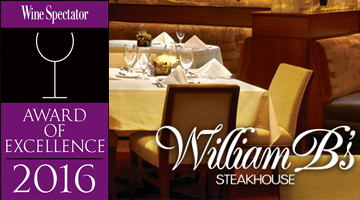 William B's Steakhouse has done it again. Patrick Cullars, Level 1 Sommelier & Restaurant Manager revised his wine list and won the Wine Spectator's Award of Excellence.
Wine Spectator
's Restaurant Awards recognizes restaurants whose wine lists offer interesting selections, are appropriate to their cuisine and appeal to a wide range of wine lovers.
To qualify for an award, a wine list must present complete, accurate information, including vintages and appellations for all selections. Complete producer names and correct spellings are mandatory, and the overall presentation of the list is also considered.
These wine lists, which typically offer at least 90 selections, feature a well-chosen assortment of quality producers, along with a thematic match to the menu in both price and style. Whether compact or extensive, focused or diverse, these lists deliver sufficient choice to satisfy discerning wine lovers.
The goal of William B's Steakhouse in 2016 is to create a wine glass program to complement our wine varietals by offering Riedel glassware to increase our guests' wine experience.