The Way You Mocha Me Feel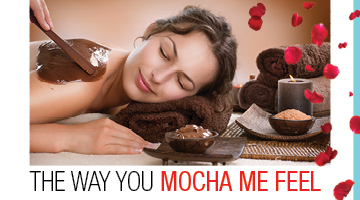 February Spa Special
February 1 - 28
CHOCOLATE OIL MASSAGE $90
Indulge in a 50-minute Swedish massage enhanced with our signature chocolate scent, grape seed oil, and vitamin E.
CHAMPAGNE & ROSE PEDICURE - $60
Add
CHAMPAGNE & CHOCOLATE
to any service!
$17

RETAIL THERAPY AT THE SPA WITH ESSENTIAL BODYWEAR
Their mission is to revolutionize the way women shop for bodywear while preserving their physical health and self-esteem.
Saturday, February 11, 10:00am - 6:00pm
Sunday, February 12, 10:00am - 4:00pm
To learn more and book your appointment, call 888-879-7711, ext 2583 or 219-861-4812.