September Shot of the Month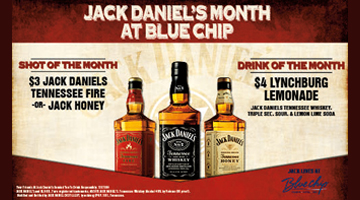 Jack Daniels Tennessee Fire or Tennessee Honey
September Shot of the Month
Your choice of a Jack Daniels shot for only $3.
Jack Daniels Tennessee Fire
Fire in Every Bottle. A classic spirit that delivers a delicious finish.
OR
Jack Daniels Tennessee Honey
A Little Bit of Honey. A Whole Lot of Jack.
Available at Options Buffet, Rocks lounge, The Game, It's Vegas Baby! and The Bar.
Also available on the casino floor through the cocktail server.